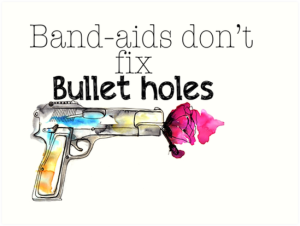 'Band-Aids Don't Fix Bullet Holes' is a catchy song title but untrue in the digital economy.
When asked why Kodak failed, John Kotter said:
"The organization overflowed with complacency so rock-solid that no one at the top ever devoted priority to turning that problem into a huge urgency around a huge opportunity."
Digital insight can deliver a huge opportunity to better understand and deliver improved client value at higher margin.  Equally absence of digital insight creates competitive disadvantage.
Start with a 'whole of business' customer centric approach!  Begin with the end in mind and leverage digital capability to deliver improved client value at higher margin.
 Digital Transformation and Client Value
The Internet of Things (IoT) proves reliance on outdated paradigms is counterproductive. Digital can be an enabler but it is truly a gift for start-ups by removing barriers to entry.
Enhanced understanding of client value is used to transform a business model, build capability and create added value. Digital transformation develops innovative revenue sources by re-architecting, reconfiguring and recombining to grow and protect revenue and margin.
Digital transformation identifies resources to be moved from areas of low yield to areas of high yield and productivity for improved customer value and higher margin.
Cost Benefit and Opportunity Cost
We buy insurance 'just in case' but how did you assess the cost benefit?
There is no insurance against the 'opportunity cost' of ignoring digital benefits.
Cost benefit analysis and opportunity cost determine return on investment in digital transformation.  Both are equally relevant considering the demise of household brands because the opportunity cost was unaffordable for Nokia, Kodak, Blockbuster, Borders and ……
Opportunity cost in failing to embrace digital solutions occurs when personal technology exceeds business tools available in the workplace.  If staff choose to have the benefits of a personal smart phone at their fingertips, why deny access to digital tools at their work desk?
Career potential increasingly relies on technological capability.  Recruitment sites, accessible by smart phone anywhere, detail opportunities in companies that embrace digital. The best insurance against digital competitors winning your clients and taking your best staff, market share, revenue and cashflow is embracing digital transformation to control your own destiny.
 Continuity or Competitiveness
Outdated technology in an outdated business model is a gift to disrupters seeking to grow their market share selling to your clients at higher margin.  Simply changing a traditional IT 'back room' focus from continuity to a focus on client value assists develop digital capability and identifies internal constraint to competitiveness in the digital economy.
Make calls on a landline if available but more often the digital convenience of a mobile is preferred.  Trends in purchasing are overwhelmingly digital anything, anytime from anywhere. Those who sell anything, anytime from anywhere love it when their competitors don't.
Intention versus Action
If digital on your 'to do' list? It is likely on your competitor's priority action list.  Intention is an illusory luxury you cannot afford?
It is likely there is a start-up somewhere in the world redefining your business model to deliver better client value at higher margin leveraging digital technology for competitive advantage?
Digital disruption is inevitable in most industries.  When your business model and current IT capability is band aided together, a digital bullet hole may prove fatal.
Forewarned is forearmed. You have had the warning.  Time to become digitally forearmed.
©Cost Management Specialists Pty Ltd