Cost Management Specialists commenced trading in 1993 as 'manufacturers of profit' with a revenue focus.  Since our humble beginnings, we have transitioned to a focus on ROI, Profit & Sustainability driven by the following variables:
1. Any fool can reduce cost. Many do without a strategic approach.  Cost management invests is strategic  rather than cost reduction where the solution can be worse than the initial problem. 
2. Price per unit is a small part of the cost management equation. Volume, cashflow, inventory, waste, supply market and other significant cost management factors are important considerations.
3. Labour as a % of total cost requires workforce planning. Digital, business intelligence, productivity casualisation & Insource/Outsource/Off-shore options have reshaped workforces.
4. Internationally proven business improvement techniques take a value stream approach e.g. systems thinking, constraints management, lean/six sigma, process excellence, digital.
5. The Internet of Things created greater opportunity across the global economy driving increased competition in local markets sometimes from external sometimes distant suppliers.
6. Digital transforms beyond process improvement or re-engineering to provide a better customer experience to a broader market anytime, anywhere often at greater margin.
7. Mobile make the 'invisible visible' & the 'impossible possible' by overcoming physical constraints through timely & accurate business intelligence to improve productivity & profit.

Cost Management Specialists, as a learning organisation, focuses on ROI as the pathway to profit.  Performance improvement relies on staff engagement. Profit has major appeal to owners but less appeal to other stakeholders. All key stakeholders have a vested interest in ROI:
Owners through a profitable business with improved cashflow & growth options
Clients through their customer experience and enhanced perception of value
Staff through learning, skills development & experience in use of modern business tools
Suppliers through a streamlined supply chain & greater confidence that they will be paid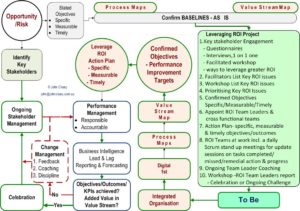 Our Find the Hidden Profit/Leveraging ROI projects facilitate diverse stakeholder engagement, embrace diverse views & identify sustainable cost management solutions.
Leveraging ROI projects seek to make 'the whole' greater than 'the sum of the parts' whether the scope is 'whole of enterprise' or a specific process within the value stream. 
Leveraging ROI projects facilitate cross-functional collaboration to identify solutions. ROI Teams make strategy operational through pursuit of specific, measurable & timely outcomes.
Benefits from a Leveraging ROI project are ongoing. Participants 'buy in' to a performance improvement culture and develop their capability to implement continuous improvement.
Click on the process map above to clarify how the benefits of a Leveraging ROI Project deliver ROI, profit and financial sustainability.
To transform intention to more $s in your bank – a daily challenge for business owners – take action now. Contact Cost Management Specialist John Cleary on +61 411 522 521.