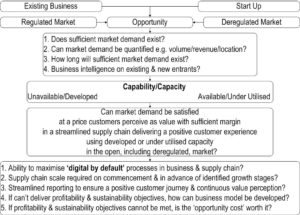 Supply markets exist or can be created. Demand can be met with developed or created capability or capacity.  Start up opportunities arise when:
there is market demand for under utilised capacity 

(@wifivelvet

On-sell home wifi you don't use)
markets are deregulated with ongoing consumer demand

(UBER & taxi industry)

.
Predictably, more businesses will identify under utilised capability/capacity for which there is a market and profit opportunity.  The identifier won't necessarily own that capability/capacity but may take a click through via an online gateway or use a licensed or franchise model.
Inevitably, more markets will be deregulated to deliver customer benefit though competition. Government policy shifts and growing demand for business opportunities in the 'new economy' will drive deregulation.
For example, the Productivity Commission recently identified six "priority areas" in the human services sector where the quality of services could be greatly improved if people are given a greater say over how they use them.
Start ups become a genuine business when a streamlined customer journey creates the perception of value while meeting the profitability and sustainability objectives of the owner over time.
The streamlined customer journey will most likely be a 'digital by default' business model and supply chain with automated reporting, real time tracking and responsive management.   
Will your next profitable business opportunity be a 'start up' or a 'pivot' of an existing business?
Cost Management Specialists assist in planning how business opportunity can be developed to deliver your profitability objectives and in defining the 'opportunity cost' in experience in the 'school of hard knocks'.
Give us a call on + 61 411 522 521 to discuss how we assist you to move from concept to profitability in an existing or a start up business.