D

igital solutions to exploit

opportunity and manage risk

 
Things once considered innovative are soon taken for granted just as a digital business model has become 'business as usual' in leading businesses. Digital is not just Technology.
Digital transformation, using a Digital 1stmindset , leads to cultural, organisational and operational integration of people, information & infrastructure to streamline flow, create value, increase revenue, streamline operations, manage cost and remove previously accepted constraints.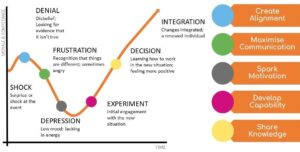 Source: Kubler Ross Change Curve
Cost Management Specialists leverage value from digital transformation by: 
Facilitating agreement on specific and measurable objectives to be delivered by a Digital 1st strategy

Identifying previously accepted constraints to the business model 

Proposing strategies and tactics to overcome constraints on the benefits of a digital business model

Identifying opportunity to achieve higher margin from current revenue streams

Proposing new revenue streams and the additional revenue they will create

Mapping As Is to identify processes to be improved, re-engineered, digitalised or deleted
Motivating C Suite and key stakeholders 'buy-in' to Digital 1st and digital business model development

Optimising quality and throughput through an outside-in customer-centric digital business model

Automating reporting and dashboards to make business intelligence the driver of all decision making

Identifying essential software and software integration to facilitate digital transformation

Identifying staff development/recruitment needs to better leverage the benefits of a digital business model

Highlighting silos contributing to a poor customer experience or adding unnecessary cost

Managing the risk of regression if the 'learning effect' delays digital transformation benefits
Ring John Cleary on +61 411 522 521 to discuss digital solutions which improve the customer experience and increase revenue, cashflow and profit.