Profit has major appeal to owners. All key stakeholders have a vested interest in ROI:
Owners through improved cashflow, increased profit, growth options & increased sale value
Clients through a positive customer experience enhancing their perception of value
Staff through skills development, learning & experience in delivering customer value
Suppliers through greater confidence that they will be paid 
You achieve your highest return from an investment in Cost Management Specialists when your:
customers question 

price/service/quality/customer experience
value stream constrains your throughput
staff confidence in change management is framed by past failures
pricing & costing needs competitive review against benchmarks
products/services need to be mapped by volume & margin
customer profitability needs analysis
digital opportunity & risk is not managed
IT focus is continuity not facilitating cross functional collaboration

total expenditure is $10m+/annum

staff expenditure is a 40%+ of total expenditure
As a learning organisation, Cost Management Specialists transitioned from 'manufacturers of profit' in 1993 to focus on Value, ROI, Profit & Sustainability & pathways to profit by learning:
1. Cost management is strategic. Any fool can reduce cost creating a 'solution' worse than the initial presenting problem. 
2. Staff engagement is vital to sustainable cost management and developing a continuous improvement culture.
3. Price per unit is only part of the cost management equation. Demand, quantity, cashflow, inventory, waste/error/variance, market testing & logistics are significant cost management considerations.
4. Labour as a % of total expenditure is declining through automation, robotics & digital transformation. Business intelligence drives increased productivity targets. Workforce Planning (Insource/Outsource/Off-shore/Casualisation) & Labour Management a growing priority.
5. Internationally proven business improvement techniques take a value stream approach e.g. systems thinking, constraints, lean/six sigma, process excellence, digital transformation
6. Digital transformation enables a better customer experience to a broader market anytime, anywhere often at greater margin.
7. Mobile overcomes physical constraints through timely & accurate business intelligence enabling consumers choice anywhere.
8. Internet of Things drives increased competition in local markets from suppliers with economies of scale in global supply chains.
Our Find the Hidden Profit/Leveraging ROI projects facilitate stakeholder engagement & cross-functional collaboration, embraces diverse views & identifies sustainable cost management solutions.
Leveraging ROI projects make 'the whole' greater than 'the sum of the parts' whether the scope is 'whole of enterprise' or a specific process within the value stream. 
Leveraging ROI projects ROI Teams make strategy operational through pursuit of specific, measurable & timely outcomes. Team members 'buy in' to a performance improvement culture & develop their continuous improvement mindset & capability.
Click on the process map to clarify the ongoing benefits of a Leveraging ROI Project – Value, ROI, Profit & Sustainability.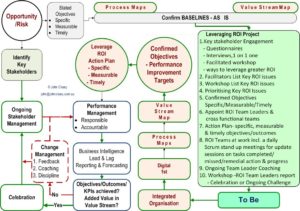 Act now. Increase your cashflow, profit & banked $s. 
Contact Cost Management Specialist on +61 411 522 521.