Consulting Projects increase ROI and boost profit by:
connecting people, information, and infrastructure

motivating cross-functional collaboration using applied business intelligence

confirming performance baselines to set performance improvement target benchmarks

recommending strategies and tactics to achieve performance improvement targets 
 a. WHOLE of ENTERPRISE PROJECT EXAMPLES
Streamlining the value stream makes 'the whole' greater than the 'sum of the parts' and better integrates an organisation. In a Whole of Enterprise Project (e.g. Workforce Panning, Leveraging ROI), Cost Management Specialists analyse workflow and each value stream process (order to payment), to identify opportunities to add value, minimise waste, reduce error and manage variance.
i. Organisational Diagnostic Review
 Objective: identify opportunities to achieve financial performance targets following analysis of:
Vision – is the vision shared and does it drive or undermine, cross-functional collaboration?
Value Stream– process mapping from order to payment to agree As Isto later determine To Be
Competitive Landscape– is it understood & managed for competitive advantage?
Assumptions, Unwritten Policies, 'Gut Feelings'–documented, reconfirmed or rejected?
Baselines– business intelligence to confirm current key performance baselines
Capacity & Utilisation– identifying capacity, target utilisation & underutilisation/overutilisation
Financials– review of significant ratios and trends down the accounting waterfall
Staff – what KPIs exist and how they integrate with performance responsibility and accountability?
Systems– what systems exist and how do they contribute to or undermine performance?
IT– does Information Technology acts as an enabler, automater and integrator?
Reporting– review reports published regularly to analyse the audience, purpose, and impact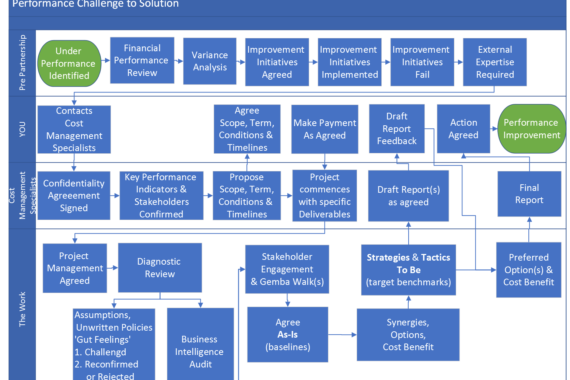 ii. Leveraging ROI Projects (previously Find the Hidden Profit)
facilitate cross-functional collaboration to agree As-Is, challenges and solutions (To-Be)

use timely and accurate business intelligence to inform decision making

reconcile diverse views to agree on how to make 'the whole' greater than 'the sum of the parts'

identify strategies and tactics to add value, improve cashflow, increase ROI & boost profit
Leveraging ROI Projects can be across the entire value stream (enterprise) or processes within the value stream (Division, Department, Workgroup)
iii Pre Sale Optimisation
Business owner's investment (finance, time, sweat) deserves maximum ROI to enable additional monetary & lifestyle options and to fund the next opportunity and/or quality of life for the rest of their life. 
A presale 'operational polish' assists Business Owners to maximise the value of their nest egg just as the real estate and car markets have proven the value of a pre-sales polish to maximise the sale price.
b. TARGET PROJECT EXAMPLES
i. Operational Audit– audit of an underperforming function, department or division. Issues can include revenue risk/optimisation, unmanaged cost, operating as a silo, customer complaints, quality, error, waste, waiting, reverse supply chain, overproduction, excess inventory, unplanned overtime, machine downtime.
The outcome is key stakeholders agreement on performance targets using applied business intelligence.
ii. Competitive Tendering (Supply)– testing the market to achieve 'best value' and cost-benefit from purchasing (what you buy from others) often to improve the margin on what you sell to others.
iii. Margin Optimisation – optimising cost/benefit in what you supply to others, in total or in part, through benchmarking, process improvement, target costing and insource/outsource options.
When financial performance improvement is required, contact  John Cleary on +61 411 522 521 to discuss a partnership to achieve targets which increase ROI & profit.