'

best value' on key evaluation criteria!
1. Best Value
If annual expenditure on a single good or service is more than $25,000/annum, and you have not tested the 2020 Covid-19 market, Cost Management Specialists will deliver better value for you by a competitive tender to select suppliers to deliver 'best value' including:
increased value through same or greater quality

improved service at same or lower cost

streamlined process with better measurement and reporting

updated Contracts Register with Bring Forward functionality

performance-based Agreements with selected supplier

waste minimised including inventory based on demand and smaller reverse supply chain
Bidders accept that there is no guarantee they will win a Tender but reasonably  expect a fair and transparent process to demonstrate their ability to deliver 'best value'. That is why Cost Management Specialists prohibit 3rd party payment or reward.
An honest and fair process requires that client's staff and Cost Management Specialists respect information provided 'commercially in confidence'.  Information provided in the tender process, which is not in the public domain, is not disclosed to other parties.
3. Outsourced Expertise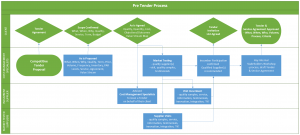 Cost Management Specialists have provided outsourced tendering expertise for decades underpinned by:
cost-benefit as the primary objective and best value as the outcome
great results on the key criteria of Value, Quality, Service, and Price
review of purchasing practices against Demand Planning, throughput and inventory
streamlining ordering, delivery, receipt, and inventory.
developing staff understanding of the gap between current supply and 'best value'
ongoing market testing to identify best practice solutions and suppliers
production of a Tender document defining needs, objectives, timelines, and evaluation criteria
a Code of Conduct based on integrity and no receipt of 3rd part payment/ benefits
Bidders confidence that submitting a Tender is a worthwhile investment of time and effort
optimising technology to streamline the tender and procurement process

4. Higher Return On Your Investment (ROI)
 Supply markets change continually. They change even faster in a pandemic. 
Cost Management Specialists guarantee is that your benefit from tendering will exceed your costs.
We promote competition to improve ROI on each of the key tender criteria below:
Pre Tender

Criteria

Post Tender

Variable 

volume, size, frequency

Product

Optimum 

volume, size, frequency

Duplication – rework & waste

Process

Process Excellence

Paying above market price

Price

Competitive with market price

Undefined, reactive

Service

Meets Service Level Agreement

Accepted as fit for purpose

Quality

Equal to or greater than

Higher than necessary

Inventory

Matches Demand Planning

Overuse & past use-by dates

Waste

Correct use within use-by dates

Constrained

Cashflow

Improved

Maximum use for continuity

Overdraft

Reduced – improved cashflow

Constrained

Profit

Improved

Purchasing practices reflect history

Transport

Less rework & double handling

Paper – siloed, inaccessible

Systems

Software- integrated, accessible
Contact John Cleary on +61 411 522 521 to discuss receiving 'best value' by tendering your major areas of supply.