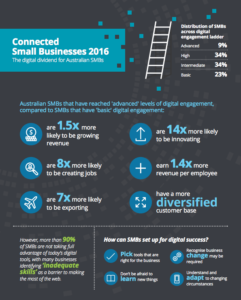 Digital starts with C Suite 'buy in' and ownership, focuses on improving the customer experience and will ultimately determine business success and, by default, C Suite membership.
Reflect on each of your digital experiences as a consumer to conceptualise and better understand evolving customer experience and expectations in the digital age.
Mystery shop your competitors. Experience their customer journey. Learn as much as you can about how your competitors use digital transformation to achieve competitive advantage.
Learn from lessons in Digital Transformation in like industries across the world. Develop shared understanding of the digital opportunity and threat as an ongoing part of the C-Suite agenda
Review your customer feedback data to identify where the current business model fails to meet customer expectations then identify the drivers & cost of the reverse supply chain & rework.
Accept digital is not IT but a whole of enterprise approach to improve the customer journey using IT as an enabler
Appreciate time is a luxury customers may not grant you. Get on with digitally improving the customer experience to assist retention, increase prospect conversion & increase net profit.
Develop a Digital Strategy with Specific, Measurable & Timely objectives & clear Responsibility & Accountability. Yes, SMART-Specific, Measurable Accountable, Responsible, Timely.
Support strategic initiative ensuring IT enables human centric innovation connecting people, information and infrastructure.
Identify & improve/re-engineer/transform internal processes undermining customer value including functional silo's failure to share vital information to meet customer needs.
Encourage savvy staff to continuously propose innovative and creative ideas to improve the customer experience through digital transformation and 'digital by default' thinking.
Cost Management Specialists partner to develop knowledge and understanding of the digital opportunity and manage risk in digital transformation.  John Cleary is happy to discuss how to best realise your digital opportunity and managing your digital risk.  
Contact John on +61 411 522 521